Hitachi Projectors - Get a FREE lamp with purchase!
Looking for a reason to buy a new projector sooner than later? We have one for you. Between now and April 15, 2015, purchase any of the following projectors and receive a receive a complimentary replacement lamp. Take a look here for more information on Hitachi projectors. Make sure to call us for our best price on these machines, since we are very restricted on what we're allowed to advertise.
Qualifying Products:
CP-X8150, CP-X8160, CP-X8170, CP-X9110, CP-X9111, CP-WX8255, CP-WX8255A, CP-WX8265, CP-WX9210, CP-WX9211 CP-WU8450, CP-WU8460, CP-WU9410, CP-WU9411, CP-WU13K
Certain restrictions apply. For complete details and official terms & conditions please go to www.hitachi-america.us/projectors and click on the promotion banner.
Five Things Every Audio Pro Should Know How to Do
by Alex Milne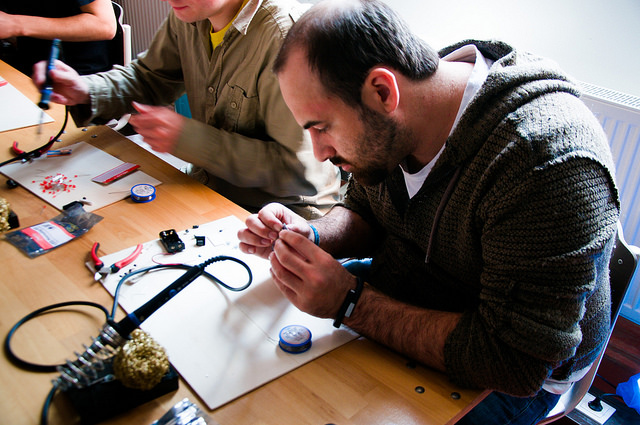 These five common concepts and skills separate the skilled audio professional from the beginner.
In our opinion, they are essential to a full understanding and mastery of audio systems.
They are evenly divided between simple overarching concepts that can be applied to any project, and practical skills that can be used to save time and money, or engineer elegant solutions to problems that emerge in the field.
1. How to coil cables right.
Many types of audio-visual cables contain twisted wires inside a sheath. This gives them a natural coil that can easily be disturbed by improper coiling. The wires become tangled inside the sheath, and the natural coil ruined, shortening the cable's life. Other types of cable, like coaxial cable, have no natural coil. They still benefit from proper handling, which avoids knots, tangles, and crushed insulators.
The right way to coil a cable is by using the "over-under" method, which is better shown than explained. This video from the London School of Sound does an excellent job showing how to coil cables using the over-under technique.
2. How to build cables from scratch.
Many audio cable connector schemes follow a basic blueprint: positive, negative, ground. If you know how to strip and make a connection from raw cable, you can build cables to custom lengths and salvage good portions of damaged cable - which is incredibly useful. Although the specific procedure for soldering a connector varies by type, a soldering station (iron, sponge, solder, helping hands), box cutter, and pliers with wire snips are often all that is required to solder the more common types, like XLR, ¼", and 3.5mm, during an emergency repair.
For best results, and to avoid damaging equipment...
Read more: Five Things Every Audio Pro Should Know How to Do
Buy an Roland M-480-STD - save $2990
From now until March 31, 2015, purchase a Roland M-480 42x26 System (SKU: M480-STD) for $7995 - a savings of $2990. Click here for more information. You'll see that we can't allow you to order online, but just give us a quick call and we'll have one on the way to you right away.
Five Wireless Microphone Mistakes That Are as Common as They Are Avoidable
by Alex Milne
They've happened to the best of us. After paging through stacks of manuals, phoning and perhaps yelling at manufacturer technical support lines, and checking and re-checking dozens of options on menu screens, we discover the cause of our wireless microphone malfunction is something so breathtaking simply, so glaringly obvious, that we can't believe we didn't think of it in the first place.
The following five mistakes are blunders shared by inexperienced and experienced audio pros alike. Do not be ashamed.
1. Dead Battery
The lifeblood of the wireless microphone transmitter, the battery, is a fickle creature.
The useable life of a battery is influenced by a number of factors, which makes it hard to pin down just how many hours you'll get out of a microphone. The type of battery in use, the brand, the temperature, and - the oft-ignored curveball - the transmitter power (20 mW vs 50 mW, etc), can all dramatically change how long your handheld perseveres.
Some people play the russian roulette game of guessing how much juice they've got left on a case by case basis. Others invest in a battery tester or multimeter. The most paranoid users (and the wisest) don't let a mic go up on stage without fresh batteries. This results in a lot of half-used batteries that go in the battery recycling bin, but it is a heck of a lot better than a mic going dead. You can purchase batteries by the case from your favorite audiovisual retailer. If you do any kind of mission critical work, we encourage you to do the same.
Read more: Five Wireless Microphone Mistakes That Are as Common as They Are Avoidable
Page 1 of 46
What others say
BTW – love the CD changer.  Excellent recommendation.
– Mark Hinman