Make your wireless systems perform more reliably.
With the increasing challenges posed by FCC TV channel reassignment, the 600 MHz cell phone service rollout, and the increase of LED stage lighting and LED walls, wireless mic and IEM users will need to squeeze out every last drop of system performance to ensure reliable, drop free performance. This article will try to explain how out-of-band interference can jeopardize the performance of your wireless systems and what you can do to minimize it.
What is out-of-band interference?
Basically it is every signal picked up by your antenna that is not the signal from your intended transmitter. In other words it is stray RF interference, be it electrical motor noise, hash from your lighting and projection systems, assisted-listening system, security radios, comms and your other wireless mics and IEMs.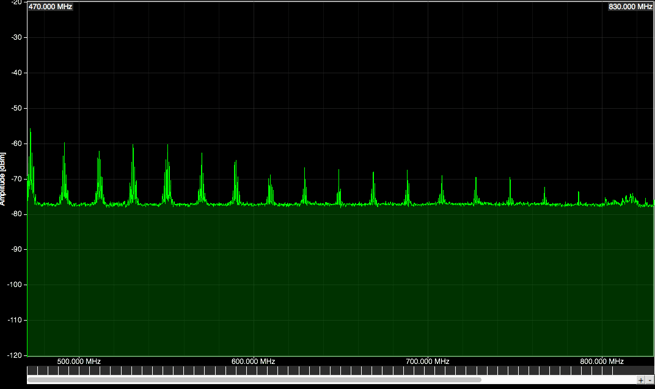 LED Wall Interference
Very soon it will also include an audience with new 600 MHz cell phones in their pockets and maybe signals from Microsoft Whitespace devices. Antennas aren't smart and simply shove every signal they receive into the front end of your receiver which directly affects the noise floor which you are trying to overcome. The interference from a high noise floor is likely the single largest external factor affecting the range of your wireless mics.
For your receiver to understand a signal it must be strong enough to overcome the background noise floor.
Read more: Make your wireless systems perform more reliably.
It's too loud!
Virtually every small and medium-sized church with a band fights the same fight. I've heard it called "platform wars", "volume wars" and similar descriptions, but in most cases the facts are simple -- the stage volume (monitors, instrument amplifiers and acoustical volume of instruments like drums) is simply too loud. And that additional volume forces the sound system in the main seating area to be even louder and/or worse sounding than it needs to be.

At my own church, we still fight with this most weekends and we're making progress. The first step we took was to get as many of our musicians as possible on earphones or headphones, and to eliminate stage monitor speakers. That cost us less than $1000. We have some additional steps to take, but let's stick with solving the in-ear monitoring equation for now.
What we did was to buy a simple headphone amplifier. Today, let's look at the HA4x4 from Elite Core. It's $119.99 and can provide up to four users the choice of between 1 and 4 different headphone mixes.
How do you create a separate mix for ear/headphones? Most audio mixers have auxiliary mix busses and just like you'd send a feed to a monitor amplifier, you can do the same to a headphone amplifier. In this case, you can send up to four different mixes so that each musician can hear exactly what he or she wants to hear and at the precise volume they'd like, all without bothering anyone else or adding to the volume level in the seating area.
Elite Core also makes wired bodypacks with volume control. The WBP-VC gives the wearer a secure place to plug in the earphone mini-plug and an XLR connector for the connection to the headphone amplifier with a beltclip. Try the Elite Core Prohex-Core-18 at $37.99 to get the cable and volume control you need.

Combine all of that with a set of earphones from Shure like the SE-215 at $99.00 or ATH-M30x headphones from Audio Technica at $69.00.
Next time, we'll talk about making some or all of this wireless, but we wanted to give you an affordable entry point for reducing stage volume in your facility.
Let us help design a custom solution to quiet your stage volume today!
Panasonic PT-RZ570 - 24/7 Workhorse, perfect for churches and business use.
It's not the least expensive 5000 lumen laser projector, but if you're interested in a 100% maintenance-free projector for your church, restaurant, school or business, look no further. The Panasonic PT-RZ570 features a sealed light engine and no need for filter cleanings, and lamp or bulb changes. It's totally maintenance-free. And the video quality is impressive.
The PT-RZ570 has become the projector of choice for corporate-owned Buffalo Wild Wings stores because it can operate all day, every day while providing an exceptional picture. BWW pairs these projectors with Da-Lite's new Parallax projection screen material for ultimate viewing angle and ambient light rejection. If you've been in a BWW restaurant and have noticed screens that appear to be as bright as the smaller televisions beside them, that combination of PT-RZ570 and Parallax at 58x104" is what you're looking it.
In addition to exceptional video performance with great contrast and shadow details, the BWW franchise owners that we work with also don't have to worry about doing maintenance, someone being injured while doing maintenance and/or spending the time of the manager or owner (the only people most stores allow to climb a ladder - or do something silly like standing on a bar stool).
Read more: Panasonic PT-RZ570 - 24/7 Workhorse, perfect for churches and business use.
Your wireless microphones will soon be illegal again!
Fantastic news, I know.
In 2010, the FCC sold off the 700MHz radio spectrum for use by telecommunications companies -- essentially for use by public safety and wireless broadband service for mobile phones and in rural areas.
In that process, television stations and wireless microphone users were forced to move out of the range that is specifically the frequencies between 698 and 806 MHz. The tech community had to replace tens of thousands of wireless microphones.
In 2017, that process is repeating itself for the 600Mhz range. This time, the frequencies between 614-698 MHz are affected. And sometime between now and July 2020, with few exceptions, any wireless microphone operating in this range will have to be retired.
2010 was difficult for many users having to replace wireless microphones. What makes the 2017-2020 "repacking" different and even more difficult is that as the television broadcasters are moved from the 600 MHz frequencies, most are being moved into the existing 400-500 MHz space where unlicensed wireless microphones are (and will continue to be) permitted to operate.
Despite remaining legal, in some markets, we have already discovered some cases where legal wireless microphones will not be able to find a safe operating frequency due to the increased density of broadcast traffic. Large churches in Indianapolis, look out!
The repacking of those television stations will come in Transition Phases 1-10 between September 2018 and July 2020.
Read more: Your wireless microphones will soon be illegal again!
Page 5 of 42
What others say
Thank you for the quick reply and great service. I love doing business with you guys.
- Jon North